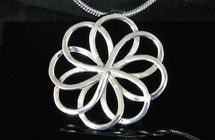 Sell silver jewelry while silver prices are high. Visit the A+ BBB silver jewelry buyers at El Cajon Silver Buyer to get more cash today. Smart El Cajon residents sell silver jewelry to us. Our El Cajon silver buyers pay you more cash when you sell silver jewelry that will be melted down AND when you sell designer silver jewelry from top brands like Tiffany & Co. and John Hardy.
Our El Cajon silver buyers are professional jewelry buyers who use an exclusive international resale network to get you more cash for silver estate jewelry. Our silver jewelry buyers eliminate the middle-man that other El Cajon silver buyers use to sell silver jewelry. Sell silver jewelry like a professional silver jewelry buyer. Sell silver jewelry to El Cajon Silver Buyer, the estate buyer used by California jewelry stores and pawn shops.
Call (619) 236-9603 and join your El Cajon neighbors in getting the most cash for silver jewelry. El Cajon Silver Buyer is a service division of SDJB: Your A+ BBB jewelry buyer and silver buyer.
Silver Buyers - El Cajon, CA 92020 - Best Place to Sell Silver