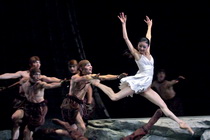 If you would like your child to begin a lifelong appreciation of the art of dance, El Cajon Silver Buyer suggests checking out Infinity Dance Arts, the area's unique dance academy. Infinity Dance Arts offers dance classes for children of all ages:
STEPPIN' STONES (ages 18 months-5 yrs)
Teeny & Tiny Dancers
This program is designed for our lil' students, these classes offer development in coordination, musical awareness, confidence and listening skills. Students gain a sense of joy as they cultivate their natural creativity and imagination in a stress-free environment.
MINI MOVERS (ages 5-7)
This program is designed for students who would like to begin or continue their passion for dance. These young dancers are provided with an environment that builds self-esteem and confidence along with quality training.
JUNIORS (ages 8-13)
These dancers are provided a caring, yet structured environment where the main focus is proper training. Students are strongly encouraged to pair Ballet with their class of choice, which serves as the foundation to every genre of dance.
SENIORS (ages 14-18)
Designed for dancers that demonstrate passion, dedication and desire to pursue a technical dance training. This program professionally trains recreational students as well as those considering dance at the college level. Training is also offered to those attending college and seeking continued dance education.
For more information, please visit their website at: http://www.infinitydancearts.com/
If you would like your organization featured in this community area of the El Cajon Silver Buyer website, please send us an email below.
Silver Buyers - El Cajon, CA 92020 - Best Place to Sell Silver