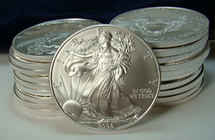 Sell silver coins to the A+ BBB coin dealers at El Cajon Silver Buyer. Our silver coin buyers pay immediate cash for silver American Eagles, Canadian Silver Maple Leafs, Mexican Silver Libertads, and other silver bullion coins. Sell "junk" silver coins like Roosevelt silver dimes, Washington silver quarters, and Franklin half dollars for the best cash offers in San Diego County.
El Cajon Silver Buyer is also the best place to sell collectable U.S. silver coins. Our El Cajon silver coin buyers pay a high premium for proof-condition Morgan Dollars, Peace Dollars, and other valuable coins. At El Cajon Silver Buyer, we also buy collectable silver coins produced in countries such as Spain, France, England, China, Portugal, Russia, and Brazil.
Sell silver bars and bullion to El Cajon Silver Buyer. Our top rated bullion buyers provide a secure and friendly environment in which to sell your silver assets. Our silver buyers buy all types of silver bullion, including silver bars manufactured by Johnson Matthey, Engelhard, SilverTowne, Perth Mint, and Credit Suisse.
Call (619) 236-9603  to get more cash for silver today. We provide free consultations and appraisals, with no obligations. Sell silver coins and bullion with El Cajon Silver Buyer today.
El Cajon Silver Buyer is a service division of SDJB, the #1 silver buyer in Southern California. Our silver buying offices are located in downtown San Diego and are open Monday thru Saturday.
Silver Buyers - El Cajon, CA 92020 - Best Place to Sell Silver